---
Sale:

£

56,995

OTR
Was: £61,855
Saving: £ 4,860
Price Includes:
Leather
Automatic
Motorhome Pack 2
More..
Finance & Part Exchange available subject to status.
Price Includes

Leather£1,360
Automatic£1,920
Motorhome Pack 2£2,590
Motorhome LUX Pack£3,060
Specification
Specifications
Year
2018
Manufacturer
Adria
Range
Matrix
Model
AXESS M 590 ST
Sleeps
4
Seat Belts
4
Layout
Transverse Bed
Profile
Low Profile
Base Vehicle
Make
Fiat
Engine Power
130BHP
Engine Capacity
2,300CC
Driving Position
RHD
Fuel
Turbo Diesel
Transmission
Automatic
Weights
Every attempt has been made to ensure the accuracy of the weights below, however it is intended as a general guide only and must not be taken as binding. Highbridge Caravans does not accept responsibility for any incident that may occur as a result of the use of this information. It is the responsibility of the driver to ensure they are driving to legal standards within the country they are travelling and under the licence they hold.
MTPLM
3,500Kg (68.89CWT)
MiRO
2,795Kg (55.02CWT)
Total User Payload
705Kg (13.88CWT)
External Dimensions
External Height
2.86m (9' 5")
External Length
5.96m (19' 7")
External Width
2.32m (7' 7")
Internal Dimensions
Internal Height
2.04m (6' 8")
Description#
Stock Number: 39250
Features
Rear fog lights
Double electric door mirror with demist function
Antenna integrated in mirrors
Plastic covers for seat base
Reinforced camping car tyres
Front wheel drive
Fuel tank 90
Manual transmission
ESP
Coloured front bumpers
Front fog lights
Windscreen blind
Side cab window blinds
Side cab window curtains
Manual air conditioning
Leather steering wheel and gear box knob
FIAT comfort package CP0
FIAT comfort package CP1
Adjustable cab seats in height and depth
Cabin seats upholstered in Adria textile
Front seats Captain chair with double armrest upholstered in Adria textile
Swivelling cabin seats
Trip computer
Driver airbag
Passenger airbag
Darker cab windows
Insulated entrance step with entrance ligh
Polyester exterior floor covering
LED third brake light
Body construction COMPREX
NEW restyled full double glazed opening windows
Scratch and damage resistant polyester side walls white
Roof light 400 X 400 in bathroom
Hail and damage resistant polyester roof white
Aluminium silver side skirt
Panoramic window above cab
Panoramic window with lining 400 x 400 behind the
liftable bed
Berths 4
Electric pull down bed in front 190x140
Double floor in seating area
Bed with slatted frame and special foam mattress
Entrance handle with LED lights
Furniture woodgrain and contrasting mouldings wood decor
Carpets in the living compartment
Carpets in the cabin
Drainer
Large Refrigerator 150 L
Shower tray
Shower faucet
Pressure water pump
Waste water tank insulated with adjustable heating 85L
Leisure Battery
USB power socket in living room and bedroom
Main security switch for 240V X
Main electric switch 12V X
Awning light LED X
Electro block X
Designated space for 3rd additional battery
Sockets 230V
Control panel
Sockets 12V
Digital control panel Truma
Truma Combi 4E with boiler and electric heating
Gas regulator Secumotion
Gas and CO2 detector
Reverse driving camera O or PLATINUM PACK
TV holder
Radio preinstallation with loud speakers
DRL halogen day time running lights
Traction system with HDC
Cruise control with speed limiter FIAT23 engines only
Bicycle carrier preinstallation Fiamma
Right hand drive standard Left hand drive optional
Wheel trims bigger
ABS EBD
FixGo Kit
FIAT 6Q9 Integrated DAB car radio highlevel CD MP3
Electrical cab windows left right
Driver and passenger sunvisors
Entrance door with window mosquito net dustbin
central locking width 600 mm
Gas bottle compartment integrated 1 x 11 kg
Ldinette
Dinette cushions formed special foam 120 mm
Oven DUPLEX with grill electric ignition
3flame gas cooker with electric ignition glass cover and stainlesssteel sink
Separate shower cabin solid shower door
WC chemical fixed ventilated non electric
Fresh water tank L 20140
Waste water tank L 85
Ceiling lights LED X
Spot lights LED X
Satellite dish preinstallation X
Solar panel preinstallation X
Luggage box heated
Preinstallation for air conditioning
Preinstallation for rear view camera
TV cupboard place for TV
Preinstallation for TV 240 V 2x 12 V antenna socket
Brochures
2018 Adria Motorhomes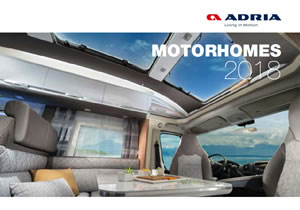 7.91mb
Reviews
Review this Motorhome
Any views or opinions expressed in reviews on this web page are solely those of the author and do not necessarily represent those of Highbridge Caravan Centre Ltd.

Similar Products