---
Sale:

£

56,495

OTR
Was: £61,425
Saving: £ 4,930
Price Includes:
Luggage compartment cover with adaption
Hot air ext. hose for heating roof bed
TV pre-installation
More..
Finance & Part Exchange available subject to status.
Price Includes

Luggage compartment cover with adaption£80
Hot air ext. hose for heating roof bed£80
TV pre-installation £130
Fog lights£160
Leather steering wheel & gear stick£170
Samara carpets£220
Design decals Aluline£230
Santorin upholstery£250
2 Folding chairs & table including mounting £250
Parking sensors£300
Daytime running lights LED£300
Front spoiler painted£300
Window in the left side blind/fly screen£340
Hinged window in rear on right£340
Rear bumper in vehicle colour£340
Truma Combi 4 heating with 1800W£340
DAB/CD radio£390
16" wheels£470
Chassis upgrade£510
Grey colour£510
Comfort expansion pack£645
Anthracite 3.55 M awning£820
Engine upgrade£880
Automatic transmission£1,820
Elevating top including Maxi double bed£3,460
Specification
Specifications
Year
2018
Manufacturer
Hymer
Range
Car
Model
Grand Canyon
Sleeps
4
Seat Belts
4
Layout
Transverse Bed
Profile
Van Conversion
Base Vehicle
Make
Fiat
Engine Power
130BHP
Engine Capacity
2,300CC
Driving Position
RHD
Fuel
Turbo Diesel
Transmission
Manual
Weights
Every attempt has been made to ensure the accuracy of the weights below, however it is intended as a general guide only and must not be taken as binding. Highbridge Caravans does not accept responsibility for any incident that may occur as a result of the use of this information. It is the responsibility of the driver to ensure they are driving to legal standards within the country they are travelling and under the licence they hold.
MTPLM
3,500Kg (68.89CWT)
MiRO
2,880Kg (56.69CWT)
Total User Payload
620Kg (12.20CWT)
External Dimensions
External Height
2.55m (8' 4")
External Length
5.99m (19' 8")
External Width
2.08m (6' 10")
Internal Dimensions
Internal Width
1.98m (6' 6")
Description#
Stock Number: 00039354
Features
Daytime running light
Seat base cover
Preinstallation for Premium DAB radio
Audio preparation with 4 loudspeakers
Full wheel cap
Breakdown kit air compressor with additional valve
Cruise Control
Diesel tank 90 l
Driver and passenger airbags
Manual air conditioning with pollen filter
Electrically adjustable and heated wing mirrors
ESC with brake assistant HBA ABS ASR LAC MSR Hill start assist and Traction
Electric power cab windows
Immobiliser electronic
Seat belt reminder Audible alarm and warning light if driver's seat belt's not fastened
Power steering
Sensor for water in diesel tank
Coaxial steering wheel adjustment
Bracket for Smartphone and tablet
Lockable storage compartment in the middle of the dashboard eg for a laptop
Glove compartment passenger side cooling compartment for 15 litre bottles
Door trays with integrated bottle holder for 15 litre bottles
Digital display with trip computer
Central locking system with internal operation and radio control
Tool kit
External temperature sensor
Fiat Ducato 20 Multijet 85 KW115 HP Euro 6
Insulated floor
Exterior finish White
Electric step
Expandable rear door opening
Insulated aluminium framed windows
Dark tinted windows in the living area passenger area
HEKI 700x500 mm above living room
HEKI 400x400 mm above bedroom
Roof vent 400x400 mm above bathroom
Cab seats rotatable upholstered in living area fabric height and tilt adjustable with 2 armrests
Folding table with extension option
Extradeep drawers with highquality runners including selfclosing
Lashing rails with 4 adjustable securing eyes to hold various accessories
Pedestal with foldable lid and stowage compartment
Comfort sleeping system with cup slatted frame and cold foam mattresses for all lying areas
Cab blinds for windscreen and cab side windows
Design folding washbasin made from solidsurface material
Flyscreen roller blind for sliding door
Partitioning curtain between habitation and sleeping area
Blackout blinds and flyscreen for living area
Compact bathroom with roller shutter door
Cassette toilet with level indicator
Shower tray with allround drain channel
Mirror cabinet
Vertically adjustable slatted frame
Gas bottle storage compartment for 2 gas bottles
Furniture finish Chiavenna Nut
Vehicle roof lining and side panels with high quality heat and noiseinsulating fabric lining
Cab seats as well as double bench upholstered in living area fabric
LED Touch lights
LCD control unit for heating incl iNet ready
95 AH gel battery including charger
230V external socket with ground fault circuit interrupter for 230V 12V
Interior temperature sensor
Dimmable LED lights
Warm air heating 4kW with hot water boiler
Preinstallation gas socket
Compressor fridge 90 l Grand Canyon Yellowstone and Sierra Nevada
Large 2section cutlery tray
Extradeep drawers with highquality runners including selfclosing
Compressor fridge 65 l Ayers Rock and Yosemite
Insulated waste water tank
Cooker and sink combination with glass cover 2burner gas cooker
Expandable kitchen worktop
Level indicator for fresh and waste water tank
Fresh water tank 100 l
Waste water tank 100 l underfloor
Brochures
2018 HymerCar Motorhomes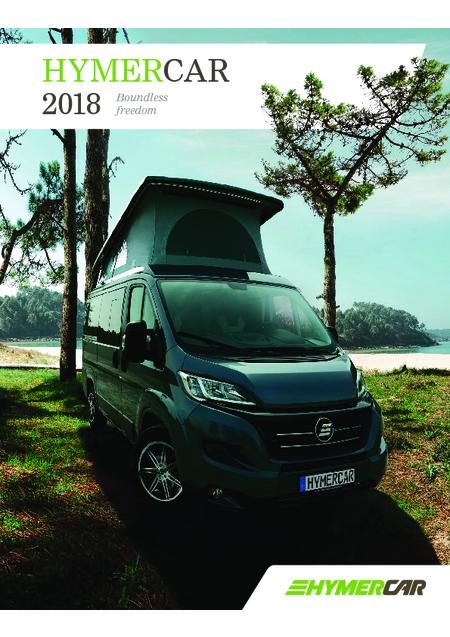 5.32mb
Reviews
Review this Motorhome
Any views or opinions expressed in reviews on this web page are solely those of the author and do not necessarily represent those of Highbridge Caravan Centre Ltd.

Similar Products